Personal Injury Lawyer
An experienced personal injury lawyer helps those who have suffered a physical or psychological injury due to the negligence of another person or entity. They will provide guidance and representation in cases such as car accidents, medical malpractice, and wrongful death. If you have been injured due to someone else's negligence, contact Menges Law Firm to get the compensation you deserve.
What Kinds of Cases Does a Personal Injury Lawyer Take?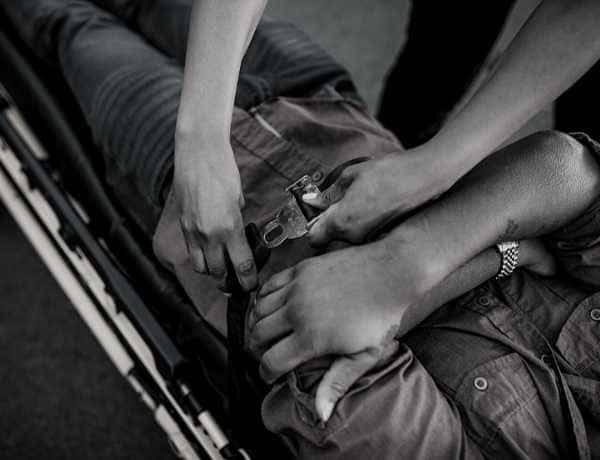 The lawyers at Menges Law Firm take many types of personal injury lawsuits. The most common are:
Truck Accident Case
For truck accidents involving 18-wheelers, it's a good idea to consult with a truck accident lawyer, as the legalities of these cases can be complicated.
It is possible that your lawyer may decide that multiple parties could be at fault, including the maker of a faulty truck part, an irresponsible cargo handler, and even another driver.
Trucking companies are notorious for having their insurance companies try to get you to settle for far less than the law allows. Reach out to us today to get the maximum compensation possible. From traumatic brain injuries and spinal cord injury to loss of life, truck accidents are serious matters.
Slip and Fall and Premises Liability Claims
An experienced slip-and-fall injury lawyer understands that these personal injury cases are serious matters. Your injuries may be more severe than you think. When visiting someone else's property, it is typically the responsibility of the property owner to ensure their land is safe and free from hazards.
Medical Malpractice Settlements
Medical malpractice settlements can be a complicated and daunting process. A lawyer will be able to assess your case and determine if you are eligible for compensation. It is essential to choose an experienced attorney who knows how to take on corporations and win in order to maximize the potential settlement amount.
Mesothelioma Claims
Mesothelioma is a rare and aggressive form of cancer caused by exposure to asbestos. It can take decades for the symptoms of mesothelioma to appear, making it difficult to diagnose and treat in its early stages. If you have been diagnosed with mesothelioma, you may be entitled to compensation through a mesothelioma claim.
Paraquat Exposure Lawsuits
Evidence suggests that exposure to Paraquat can pose a risk of developing Parkinson's disease by up to 600%. As a result, Paraquat is banned in 32 countries, such as the European Union and China, but is still used in the U.S. If exposure to paraquat has made you sick, contact our paraquat lawyer today.
Negligent Security Lawsuits
Business owners must take reasonable steps to protect their patrons, as they may face liability if an unsafe environment is aware to them, especially in areas of high crime; a negligent security lawyer can help injured individuals seek justice when such precautions are not taken.
Burn Injury Claims
Burn injuries can be devastating and life-altering, leaving victims with physical and emotional scars that may never heal. When the negligence of another party causes a fire, it is important to seek legal help from an experienced burn injury lawyer. These lawyers can help you recover compensation for medical treatments and other costs associated with your recovery.
Nursing Home Abuse
Nursing home abuse is the mistreatment or exploitation of elderly individuals residing in a nursing home or long-term care facility. It can take various forms, including physical, emotional and financial abuse or neglect, as well as deprivation of basic needs such as food, water, or clothing.
Other personal injury lawsuits we take are:
motorcycle accidents
pedestrian accidents
defective products
birth injury
bike accidents
construction accidents
Menges Law Firm has helped many injury victims get the compensation they deserve.
How Do I Know If I Have a Personal Injury Case?
When it comes to personal injury cases, the first step is determining whether or not you have a legitimate claim. Generally speaking, when someone else's negligence has caused you harm, you may be entitled to pursue a legal claim or lawsuit.
This could be due to an assault, a workplace accident, or even a dangerous or defective product.
If you can establish that another party is legally responsible for your injury, you may be eligible for monetary compensation.
At Menges Law Firm, we have experienced personal injury attorneys who are here to help determine if your accident qualifies for a claim. We will review all of the details of your case and guide how best to proceed with filing a claim. Our team will also work hard to ensure that any settlement or award is fair and just for your situation. We understand that this can be an overwhelming process and we are here to help make it as stress-free as possible.
What Type of Damages Can I Recover if I Bring a Personal Injury Claim?
It is important to note that the amount of compensation available in a personal injury case will vary depending on the severity of the injury and any other factors that may affect the outcome of the case. An experienced personal injury attorney can help you determine what kind of compensation you may be entitled to receive based on your circumstances. We can also guide how best to pursue your claim so that you get the maximum amount possible for your injuries.
Punitive Damages
Punitive damages are a type of legal remedy often awarded in civil lawsuits to the plaintiff as compensation for an offense that was particularly malicious or egregious.Punitive damages are awarded beyond what the plaintiff would receive for normal compensatory damages and it is meant to punish the wrongdoer, deter similar conduct in the future, and discourage bad behavior by setting an example.
Economic Damages
Economic damages are financial losses that can be quantified; they compensate the claimant for any material costs associated with an injury, loss of income, or other economic losses. Examples of economic damages can include:
lost wages
medical expenses
and loss of enjoyment of life
Where Can I Find a Personal Injury Lawyer?
Ask for recommendations from people you trust.
Search for qualified personal injury lawyers in your area online.
Reach out to local law schools and ask for a referral.
Interview several potential attorneys and ask for references.
Injuries Caused By Negligence, Recklessness Or Carelessness Deserve Compensation
Some injuries are avoidable. However, a reckless driver, careless foreman, or defective equipment may cause a severe injury. If you have been seriously injured in an auto collision, truck crash, or construction site accident, speak with an experienced personal injury lawyer at Menges Law Firm. If you have suffered broken bones or other major trauma, Menges Law Firm can help.
How Can a Personal Injury Lawyer Help Me?
A personal injury lawyer provides critical legal representation and advice in managing the complex paperwork following an accident. They will review your case, assess the evidence, negotiate with insurance companies, and fight for favorable settlements or verdicts on your behalf. Lawyers are also well-versed in the local and state laws governing personal injury cases, giving you added confidence that you have an expert advocating for your rights. Hiring a personal injury attorney is therefore essential to protect yourself from being taken advantage of by insurance companies and other parties involved in the proceedings.
Gather Evidence
Your lawyer will talk to witnesses, gather medical records and accident reports, talk to police, and put together an entire case for you.
File Your Claim
Once the evidence is collected and the case is strong, your lawyer will officially file your claim and intent to sue.
Negotiate
Once the claim is filed, the defendant's team and your team will negotiate a fair and just settlement. This part of the process can take anywhere from a few months to a year. Most intent-to-file processes have a deadline for a settlement to be reached; if there is none, your lawyer will take them to court.
If Applicabale- Argue Your Case in Court
If a settlement is not reached outside of court, your personal injury lawyer will fight your case in court.
How Much Does a Personal Injury Lawyer Cost?
At Menges Law, we work on a contingency fee basis. A contingency basis means you do not pay anything unless we win you a settlement. If we don't win, you don't pay- it's as simple as that.
Decades Of Successful Professional Representation
While many attorneys will take your personal injury case, few have the decades of experience as a personal injury law firm. Our injury lawyers skillfully represent people that suffered catastrophic injuries caused by:
Truck Accidents
Bicycle Accidents
Motor vehicle Accidents
Construction site accidents
Medical negligence
Dog Bites
Premises Liability
Mesothelioma Claims
Is it Worth It To Hire An Injury Attorney?
When you or a loved one is injured in an personal injury accident, the physical and emotional pain can be overwhelming. In addition to this, there are often financial implications that come with medical bills, lost wages, and other costs associated with the injury. This is why it may be worth considering hiring an injury attorney to help you seek justice and financial compensation for your losses.
An experienced injury attorney can help you navigate the legal process of filing a claim against those responsible for your injuries or loss. They will work to ensure that all of your rights are protected and that you receive fair compensation for any damages incurred. An attorney can also provide guidance on how to best handle insurance companies who may not have your best interests at heart. Ultimately, having an experienced attorney on your side can make a huge difference when it comes to getting the justice and compensation you deserve after suffering from an injury or loss due to someone else's negligence.
What if The Accident Happened on the Job?
If an accident happened on the job, depending on the type of job and workplace, employees would need to take appropriate steps to report the incident and seek medical help for any injuries sustained. The employer may also be responsible for providing workers' compensation or other forms of financial assistance related to medical bills and lost wages.